Decryption
The right equipment for each age !
Before the age of 10, a child must travel in a seat adapted to his age, morpholgy and weight.
Baby baskets, child seats or even booster seats, it's not very easy to understand.
Moreover, these essential equipments can quickly increase the holiday budget for families...
Fortunately, that was before !
At Europcar Atlantique, we have deciphered everything for you.
And, as good news never comes alone, we have decided to lower our prices permanently.

Nos conseils
Babies from 0 to 8 months : Opt for the baby basket
Indispensable for comfortably transporting baby and keeping him in an optimal position while respecting his sleep.


Children from 9 to 18 kg (9 months to 4 years old approx.) : Choose the child seat
Perfect for keeping your little ones at the back in a seated position, making them travel comfortably.


Children from 15 to 36 kg (4 to 10 years old approx.) : Go to the booster seat
Which simply elevates your kids so they can fasten their seatbealt on their own and admire the scenery throw the window. Like "grown ups"!
New prices !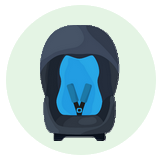 Baby basket 6€/day
instead of 14€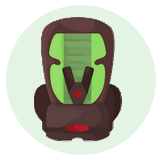 Child seat 6€/day
instead of 13€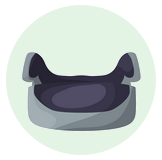 Booster seat 3€/day
instead of 8€
All our equiments are approved and certified to comply with European safety standards.
And, to ensure perfect hygienic conditions, child seats are delivered with a disposable protective cover in its packaging.
This is also the little extra Europcar Atlantique 😉 !
Our range of family vehicles